To celebrate Star Wars Day this year (May the Fourth be with you!), we released a special bonus episode of Frugal Living. The topic? Disney's new Star Wars: Galactic Starcruiser Hotel. Mark Jackson, a friend of the podcast and travel expert at Brad's Deals, returns with advice on booking cheap Disney vacations. Check out Frugal Living on Apple Podcasts, Spotify, Google Podcasts, Amazon, Anchor.fm, iHeartRadio, or anywhere you go to find podcasts.
Can you get deals at the Star Wars: Galactic Starcruiser Hotel?
According to Mark, it's too early to expect much of a discount on Disney's newest Star Wars attraction. Unlike Galaxy's Edge, this hotel just opened on March 1st of 2022. So if you're itching to join the rebellion in the next few months, expect to pay for the privilege. We just checked, and Galactic Starcruiser prices start at $5,999 for a family of four.
Is there any hope for lower prices in the future? Mark thinks so. He reminds us that Disney sometimes bundles bookings with admission tickets to create discounts. That isn't happening anywhere just yet, but Mark expects it to happen with parks like Disney's Galaxy's Edge in the future.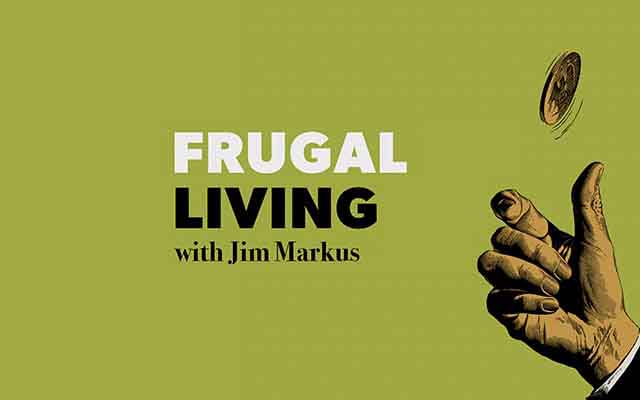 Read a Transcript from This Episode
Jim (00:03):
This is Frugal Living. <music> May the Fourth be with you. If you're a Star Wars fan, you already understand the punny nerdiness of May the Fourth. And that's why we decided today we'd give you one very special bonus episode. I talk with Mark Jackson about how to take a cheap Disney vacation. Mark knows more about travel than anybody I've ever met. So it made sense to ask him if I wanted to go see the new Disney Star Wars vacation, how can I go for less? We nerd out about Star Wars a bit. And we talk, obviously, about ways to save when you wanna stay anywhere near Disney or take your family to see Disney attractions. Here's our conversation. <music> Tell me what's new with Star Wars being a part of Disney.
Mark (01:03):
About 10 years ago, Disney purchased Lucasfilm from George Lucas. So this was a seismic purchase in the content and intellectual property world. So Disney, one of the, you know, premier content producers on the planet owning Star Wars got everyone excited. We've seen new movies. We've seen two lands premier at Disneyland and Walt Disney world that are essentially identical. Fantastic rides. Two premier attractions. You get to drive the Millennium Falcon. You get to help Rebels, you know, infiltrate a First Order base. And one of the most technologically advanced attractions ever built.
So Star Wars fans are generally pretty happy with what they've gotten from Disney so far. I won't speak to the movies. Some have been better than others, I think, but now we got Baby Yoda on Disney+. And so the whole Disney content engine is just been throwing everything at Star Wars.
So after the parks unveiled Galaxy's Edge, the planet that you get to visit, we just saw Disney finally unveil probably one of their most ambitious projects ever undertaken, which is what's called the Galactic Starcruiser. It's a three-day, two-night, all-inclusive adventure for guests to fully immerse themselves in the Star Wars universe.
You're traveling onboard a what essentially is like a space cruise ship. And, of course, nothing ever goes to plan. And there's lots of role-playing that you're actually able to participate in with all the technology that Disney's developed over the years. So you can essentially choose if you wanna be a Jedi onboard, or a smuggler, or a sympathizer of the First Order, or a Resistance fighter. And the story will play out for you in real time.
What we're seeing from initial videos are secret rooms that you can unlock as part of this storytelling adventure. You meet, you know, Chewbacca and, and others that are helping along this storyline. So it's sort of a mix of, like, a cruise ship, an escape room, like, a murder mystery dinner, all in one, that's playing out in real time over multiple days with live actors. And you even get to take a, quote unquote, excursion to Batuu, which is in the actual theme park.
So the story plays out in there as well. And while you're amongst, sort of, regular park guests, you're helping people onboard the ship smuggle items back to the ship. And this is all done with your smartphone. So the storytelling is just absolutely incredible it seems like so far with what we've seen. It just looks really fantastic and definitely changes the game in terms of, uh, interactive experiences that you can participate in with your family.
Jim (03:48):
I've never been as excited about an attraction as I am about this. People who are very intimate fans of this show understand that one of the things I do on the side is I make games and I play games. Some of my favorites are, like, parlor LARPS. You go to someone's house. Everyone has a character. It's like a murder mystery with your friends, only very in-character with whatever situation you've chosen.
To see one of the biggest companies in the world use one of the biggest brands in the world to do this kind of thing on this scale, I've never seen it before. Never seen anything like it before. And I'm really excited to see, you know, real experiences from people going to this. To tie this into the frugal aspect of this, one, I'm always going to say I'm delighted that Disney's doing this. Like, a Star Wars experience like this when I was a kid would've blown my mind. But you can do this without Disney. And you can do this without Star Wars. You can do this in your own home with your friends for free. Like, LARPS exist. And if you don't wanna build one yourself, they're very inexpensive and you'll get hours and hours of entertainment out of them.
You can find cheap LARPS on Itch.io, DriveThruRPG, Indie Press Revolution. Like, these are all places you can go to find LARPS or tabletop role-playing games that give you a similar experience to this. And some of them even have those big brands. There is, like, a Star Wars tabletop role-playing game. And there are Star Wars and space-themed LARPS that you can get that you don't have to wait for. You can do those without spending thousands. But if you want that experience, if you wanna go to Disney and get the premium-tier experience with a frugal mind, how is that possible? Like, what advice do you have for that person?
Mark (05:35):
Well, it's too early to really tell on the Frugal Living side about this Collective Starcruiser thing. I'll tell you I'm a big Star Wars fan. I'm an even bigger Disney fan. The theme parks are, like, my passion and one of the big reasons why I got into travel. Even then, the price that they are successfully charging people to get onboard the Halcyon cruising through space is out of this world. It's unbelievably… It's too early to say overpriced, but it is at a very high, high, premium price compared to other experiences that you can take.
Rooms can fit up to four adults. So even if you squeezed everyone into your space cabin, four adults, I think it's breaking down to around $750 per person per night. So that's $6,000 for the cabin for two days. If you're only a couple that, you know, wants their own room, it's gonna increase in price. I think it's gonna hover around 4,000 or so for, you know, two people in a room. So I will say it's slightly all-inclusive. You know, it includes your park ticket to get into Star Wars Galaxy's Edge. It does include food, some alcoholic beverages, not all of them.
There are some upcharge experiences on there as Disney likes to do. Not a frugal option at this point. I do think that the price will probably come down or Disney will start bundling this experience with a longer Disney vacation because it is just a three-day, two-night, fully immersive experience. And people that are traveling, you know, from out of town and only go to Disney World every once in a blue moon will probably wanna go to the other parks as well. So maybe they stay at one of the other Disney properties and then are taken to the Star Wars Galaxy's Edge for two-night adventure there.
Jim (07:15):
But that's not this year, right?
Mark (07:16):
Not this year, no. I do think that prices will come down a little bit from what I'm seeing from the initial videos and reports. I mean, there's just a ton of live actors and there's lots of incredible experiences there. So I think that you're getting a lot for your money. I'm interested to see what paying passengers, as they're calling them, feel about this. More to come there, I'm sure. <music>
Jim (07:41):
This episode, as always, was brought to you by Brad's Deals. There's a community of people here scouring the web for the best deals on everything. The site is B R A D S D E A L S.com. One trick for deal hunters: You can sign up for the Brad's Deal's newsletter. That way, you'll have a better chance of snagging something stellar before it sells out. Thanks for listening. <music> I think the biggest question for me is if you organize a LARP at your house, the people that are there all really wanna be there. You know, like, everyone's gonna be engaged. If you pay for a LARP experience at a place that's as popular as Disney, I'm curious, how do you create that kind of a level of experience for people with wildly different expectations for a weekend?
Mark (08:35):
I agree with you that buy-in is very important. And obviously if you're onboard with every single Star Wars nerd that goes to Star Wars celebrations each year, it's gonna be awesome. But at the same time, I think they've done a good job at giving people options on what they wanna do. So, you know, they have, like, a normal cruise, like, everyday activities. Like, they, kind of have, like, a space bingo thing that I'm seeing, or, like, a fashion show. And it's kind of more passive and sort of like your traditional cruise entertainment.
Of course, there's, you know, a dinner show that involves a Galactic superstar. But this is all informing this story that is playing out for people that are maybe a little bit more involved, especially with what they're calling a Datapad, which is on your smartphone. And there's lots of missions that you can do based on the role that you have taken on, which some people who are less into it, you don't have to take on that role. You'll probably get less of the story out of what's unfolding around you. But I think the cool thing is, you know, there's at least four roles that you're able to choose from. And two people in the same cabin could have a completely different experience at times based on where they're sent around the ship, you know, due to the people that are, kinda, organizing these various missions. And of course there's always a bar.
So maybe someone who's a little less into Star Wars, you know, there might be some delicious drinks. And I fear for the people that are paying that price and not getting fully involved with this, but they will exist, of course. You know, I mean there's plenty of kids out there that are gonna love to do Star Wars and their parents are like, "All right, fine, we'll go. We can afford it."
Jim (10:04):
Okay. So Star Wars awesome theme park adventure aside, someone wants to go to Disney–a notoriously expensive family vacation, but a notoriously worth it family vacation in a lot of cases–what advice do you have for someone who just wants to book a Disney vacation and doesn't care about getting the latest and greatest of live action role-playing experiences?
Mark (10:26):
Disney is still very expensive. They've only increased the price too as the years have gone on. So I will say that a lot of the experiences have also increased in quality. They're always investing in their parks and opening new rides and attractions. But for a family that's looking to try and save as much money as possible at Disney, you have a number of options. So points and miles, of course they can help you get your flight to Orlando that can be free for your family. They can help you get your hotel at Disney.
So Disney operates their own hotels. There's no points program with Disney, unfortunately. But they do have a number of hotels on property that feature most of the same benefits as on-property hotels, but they're operated by Marriott or Hilton and you can use your points to stay there. And a lot of those hotels can be drastically lower in price if you're paying cash compared to a similar property that Disney operates too. So it's the Swan and Dolphin Resorts that are located walking distance to the parks, Epcot and Hollywood Studios. Those are Westin and a Sheraton.
And then you have the Swan Reserve, which is now part of the Autograph Collection. And all those are Marriot properties. They still get you early entry every day just like someone who's staying at a Disney resort on property that's operated by Disney. And they even include what's new in the parks this year, which is evening hours. So there's two or three hours per night that you are able to access, but it's only for people staying in some of Disney's luxury hotels. And these Swan and Dolphin hotels are also included in that, which is really cool. So if you don't have points or miles though, and you don't wanna pay for onsite Disney property, you can stay off property. You're just not gonna get a lot of those benefits.
We've seen park hours still remain relatively short compared to before the pandemic. So I think that maximizing as much time as possible in the parks is key, especially if you're paying upwards of $150 a day for a Disney park experience. So I would try my best to at least get early entry in the morning by staying at one of those partner hotels. Now Disney hotels might always get passed over because they are a little bit more expensive. They do offer economy-style lodging, almost like a really fancy motel on property. They have the All-Star Sports, All-Star Music, All-Star Movies, as well as Pop Century Resorts that operate in a much lower price point. So I've seen in off-peak times those hotel rooms going for around a hundred to $120 a night. And Disney doesn't charge resort fees, which is nice. So you'll just have taxes on top of that.
Jim (13:00):
That's huge. But do those also include the benefits that you mentioned before, like early access?
Mark (13:06):
Yes. So you'll get early-morning access at each of the parks, 30 minutes at every one of the parks each morning. You'll get free transportation to all of the Disney theme parks, and you also get to stay in the Disney magic, you know, for the entirety of your stay, which is kind of fun. So it's a little bit of an escapism.
I do think that's one huge benefit and reason why those hotels are always so packed full at Disney is people don't wanna leave that bubble, that Disney bubble. They still have themes. They still have pools. They still have quick service-restaurants on property. So they definitely have amenities, but they're just gonna be a lower price than some of the other properties that have more amenities and services.
Jim (13:45):
I like it. So it sounds like if you are already maximizing your rewards and, like, credit cards and you're familiar with how to make sure you're getting paid back on, you know, everyday purchases and you've started collecting points, you can use those on partner properties, partners that aren't owned by Disney but that have negotiated special Disney access close to the parks without being part of Disney. And you can use your points to book those rooms. Though you're gonna have to save to do that. Like, these aren't gonna be your 5,000-a-night points.
Mark (14:18):
Definitely. I stayed in November at the DoubleTree Suites at Disney Springs. And that was, I think, after my fifth night free with Hilton. So Hilton, when you redeem four nights, you get a fifth night free on award points, which is really nice. I think I paid around 32,000 points a night, which is not that much when you really think about it in Hilton's program. So definitely some deals to be had, especially if you're traveling at off-peak times. This was before Thanksgiving and the holidays.
But yeah, planning ahead with Disney is very key. I'll say one thing too about park tickets, it's hard to find discounts. But the longer you stay at Disney or the longer a ticket you buy, the cheaper per day. I think the longer you stay as well things become a little less manic. So you don't have to squeeze everything in into, you know, maybe four days if you have more time to spend on vacation. Disney used to have a free FastPass service that a lot of people know about that used to be able to skip the lines. And, you know, those would run out throughout the day, but you did have an opportunity to not have to wait an hour-long line for Space Mountain, for example.
Now they've unveiled something called Genie+, which is a paid experience on top of your park ticket. So it's $20 a day per person, which adds up over a vacation for families. But you're able to make reservations on your smartphone similar to how FastPass worked in the past. It's still in the early stages of its existence, and so there's definitely some things that Disney is tweaking. But for their most popular rides now, you're actually able to pay a one-time fee that's separate from the Genie+ rides. So these are your Star Wars attractions that can go for, you know, over $10 per ride. But it's a little bit more immediate.
You're able to get on the ride I think a little bit faster if there's availability, of course. But Disney's finding ways to monetize their park guests a little bit more and it's getting a lot more expensive. So keeping that in mind as a, uh, traveling family perhaps is key.
Jim (16:20):
That was our special bonus episode on Star Wars vacations and Disney vacations with Mark Jackson. Thanks, as always, to our guest. Mark has appeared with us before, not just this season, but he talked to us last season about travel in 2021 as well. Thanks as well to Genny Blauvelt. She's been with us as an audio editor intern all season long, and she did the editing for all the episodes you just heard.
We're gonna take a couple weeks off and I'll be out in my garden planting seeds because the last frost of the season is supposed to have just happened. So my gardener friends, get out there. Enjoy. Plant your seeds. And we will see you in a couple of weeks for the start of season five. I'm Jim Markus. <music>
More About Frugal Living with Jim Markus
To hear more episodes about tips for living a frugal lifestyle, check out all four seasons of Frugal Living. Frugal Living is a podcast for smart consumers. How do you spend less and get more? The show, sponsored by Brad's Deals, features interviews, stories, tips, and tricks. Jim Markus hosts season four, out now.