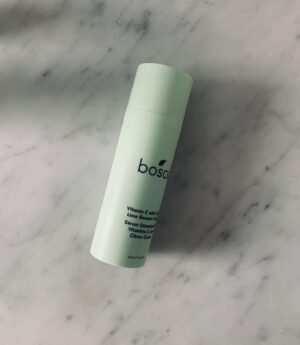 I shared that I received a restock of my favourite vitamin C – Boscia's Vitamin C Serum with Caviar Lime Booster. This is my favourite vitamin C for a few reasons: – the texture is watery. This means no pilling and quick absorption. – ethyl-ascorbic acid, stays stable for a longer time- packaging is not a dropper bottle which is prone to contamination and seems to let air in more quickly. – 10% concentration of vitamin C. Enough to make a difference in pigmentation over a long period of time, but not too much to feel stingy on my skin.
But this isn't the only Boscia product in my rotation. I'm also using the Makeup-BreakUp Cool Cleansing Oil as my first cleanse, and the Thermal Black Charcoal Cleanser as my second step at night time. It's foaming and washes everything off.
The Papaya and Pomegranate Enzyme Exfoliating Body Scrub and the Peptide Youth-Restore Firming Body Serum. No, the serum hasn't made my body more firm but it absorbs quickly and leaves my skin super soft. It actually has niacinamide and peptides in it so that you can apply some of the same ingredients you apply on your face, to the skin on your body.
Also, the Cica Soothing Universal Cream is what goes in my gym bag, because you can use it anywhere, at any time, and it's a soothing multi-purpose moisturizer.
They're all available at Shoppers Drug Mart or on Amazon.