Potential clients looking for branded environment solutions sometimes ask Miller Zell, "What are you good at?"
There's a long answer and a short one.
The long one goes like this. We're good at design. We're good at design development. Value engineering, too. Procurement, production, print management? Check. Fixtures, décor, POP? And digital? All good. Our program management is outstanding. Installations? Absolutely. And our ultimate sweet spot is performing these tasks at scale nationwide for hundreds or even thousands of stores.
That's a lot. And the short answer?
Miller Zell offers end-to-end services for branded environments, from concept to completion. We also can enter your campaign at any point and provide measurable value through increased efficiency and savings.
That is in contrast to the old model that relied on a series of specialized businesses such as architectural firms, design and branding agencies, printers, fixture vendors, etc. Sometimes it worked. But it frequently broke down because of handoffs.
Handoffs allow risk and compromise into the process. They create gaps where inefficiencies can grow. Communication between agencies and vendors often degenerates into scope-of-work conflicts and finger pointing. All the while, deadlines are missed, and costs increase.
When clients work with Miller Zell, there are no handoffs
There's a difficult but shared reality for many retailers and others. Siloed structures between marketing, store design and development manifest themselves in inconsistent workflows. Further, today's omnichannel complexities paired with economic challenges, including inflation, increase the pressure and number of potential pratfalls.
So what does the no-handoff model of design adaptation look like?
Consider the ideation and design process, which can have a variety of starting points for engaging with our 40-plus-person design and design development teams. Clients bring Miller Zell architectural plans, brand assets, design criteria, creative briefs, surveys, elevations, etc., with the idea of upgrading their in-store experience in the most efficiently executed and cost-effective way possible. 
Miller Zell delivers design adaptation through the lens of design intent, thereby enabling agility and opportunities to realize significant savings for our partners. This happens because our diversely skilled designers — architects, environmental, graphic & motion and industrial — focus on creating more cohesive brand experiences. We aspire to create designs that are easy to maintain, appeal to a wide range of targeted customers and can be modernized and integrated with a two- to three-year road map for new technology.
Further, those designers know engineers and supply chain experts are working under the same roof, as are experts in prototyping, survey production, program management and installation, which includes software that governs kit packing, ordering and shipping. This makes collaboration easy, not only within Miller Zell but also with the client and any other external stakeholders. This ensures a design becomes efficiently scalable with as little friction as possible.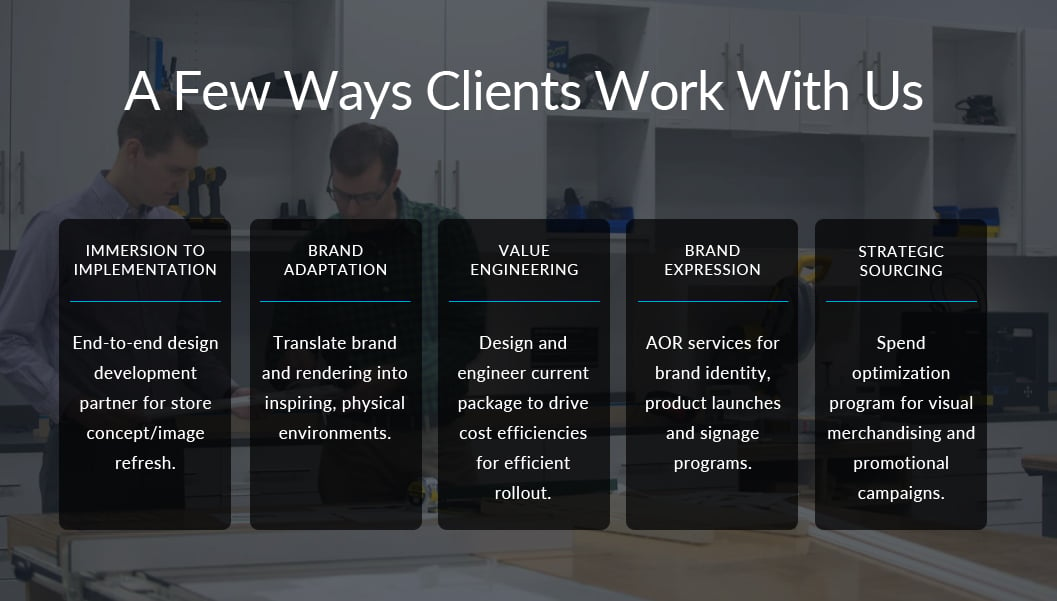 What about some examples of our work?
An end-to-end transformation
An example of efficient rebranding at scale is our work with Truist, a bank that came to life in 2019 after BB&T and SunTrust banks merged.
The new bank needed to transform the branded environments of its branches and corporate sites without disrupting ongoing business. Truist also wanted to efficiently evolve a great customer and associate experience.
From design to installation, Miller Zell led the renovation of 301 retail bank branches, each a custom footprint, and over two million square feet in 75 corporate sites. We created custom kits of parts for each footprint and scheduled and guided renovation using a combination of interior graphics and signage packages as well as paint, furniture, carpet, branding and regulatory elements.
The on-budget project created an outstanding brand experience for associates and customers.
Localization across the nation
Miller Zell's longtime client Walmart wanted to execute a national in-store signage program during the back-to-school/college season that celebrated the major universities nearest each store location. The signage needed to adhere to the school's licensing agreement requirements, and Walmart wanted the program executed in just 10 weeks.
The project engaged several of our Retail Marketing Solutions capabilities: creative design extension, campaign management, print & color management, procurement and logistics.
Across the U.S., Miller Zell created, tracked and printed 1,974 different designs — 64 percent with variable print components — for 3,965 stores. And we delivered 100 percent on time.
"It takes a large collaborative team to make these in-store initiatives come to life, and I could not be more honored to be a part of the visual merchandising team with Miller Zell," said Walmart's senior director, visual merchandising.
Store of the future? No problem.
While efficiently scaling branded environments is one of our prime capabilities, that doesn't mean we can't optimize a flagship store of the future.
Micro Center wanted to develop industry-leading shopper and associate experiences using strategic store design and digital solutions, eliminating friction along the path to purchase. Miller Zell needed not only to understand the task, it also needed to deeply understand Micro Center's brand, both what it was now and what it wanted to be.
Our process began with focused, strategic research and data analysis. We identified ways Micro Center could improve its customer experiences. We optimized space, for inventory, flexible department use and merchandising, creating a strong omnichannel experience through an elevated app for customers and associates. Integrated store and app development promoted brands through experiences, connecting with novices and techies alike.
The Tustin, Calif., store was an immediate hit and received rave reviews from multiple YouTube influencers. The store saw same-store sales rise and it continues to outperform other stores. Miller Zell will develop new stores in 2023, and Micro Center intends to expand over the next several years in new markets and will apply this redesign to them.
"It was really about trust," said Matthew Herman, Director, Visual Merchandising, Store Design at Micro Center.
"We had to trust that Miller Zell would take the time to really understand who Micro Center is and who our customers are."
35 percent cost reduction?
Petco asked Miller Zell to scale a prototype of a Just Food for Dogs store-within-a-store concept for 25 stores in six weeks.
We reworked the prototype design into two store types, with each type consolidated and kit packed for a variety of store footprints. We then produced an enticing, functional design that attracted customers both looking for JFFD products and Petco browsers.
We also delivered savings on logistics and shipping costs and value-engineered just about every display and fixture, creating approximately a 35 percent cost reduction from prototype to the final version.
Providing diverse, purposeful services, agile execution
An immersive, customizable branded environment can bolster a diversity of customer experiences. It can elevate a university or an in-store supermarket bank branch. Ultimately, it's about efficiently creating purposeful and innovative customer and associate experiences wherever people gather, shop or learn.
The best way to arrive at that destination is with a partner with expertise that spans your entire project.
We want to be your trusted end-to-end partner for creating an optimized branded environment.